Samsung sets the Galaxy Fold price, comes with Kevlar case and free Buds indeed
If you have been wondering about the exact price and release date of Samsung's
Galaxy Fold
bender, the phone maker just issued a
press release
to officially confirm what we have been hearing for a while.
The Galaxy Fold will
indeed
be available in 15 European countries at first - United Kingdom, Germany, France, Italy, Spain, Sweden, Norway, Finland, Denmark, Belgium, Netherlands, Poland, Austria, Switzerland and Romania - plus the home turf of Korea, of course.
Samsung Galaxy Fold price and release date
The Fold will indeed be up for pre-order on Samsung.com and "participating partner websites" on Friday, April 26th, with an actual launch scheduled for a week after, on Friday, May 3rd. Space Silver, Cosmos Black, Martian Green and Astro Blue will be the colors to pick from, and the MSRP price tag will start at... wait for it... €2,000.
Two grand will get you the Galaxy Fold, a unique Kevlar case for it, Samsung Buds and a year worth of Samsung Care+. Not too shabby for that satisfying click you will experience when you close up the phone. Plus, you'd get immediate street cred from having the most expensive phone in the room. Bazinga.
The Galaxy Fold is the result of ten years of research and represents a huge breakthrough in smartphone design and functionality. Continuing our legacy of display innovation, the Galaxy Fold will allow our customers to enjoy all the benefits of a bigger screen through a ground-breaking design that fits comfortably in your pocket.
Unfortunately, Samsung still hasn't supplied the exact dimensions of the Galaxy Fold, and today's price announcement and carrier partners in Europe are the only new bits of info added to the Gumby phone. We are still a month away from its pre-order start, though, and Samsung would fill in all the details in the meantime. After all, it does have another
event scheduled for April 10th
, too.
Galaxy Fold availability
Samsung may be able to produce a maximum of 100, 000 units per month, and probably way less than that once ramp-up and quality control restrictions kick in. Compare that to the scheduled production rate for the Galaxy S10 of 3 million a month, and you'll see the problem with general availability of the expensive Galaxy Fold. The tepid production volumes come hand in hand with Samsung waxing poetic about "a super-premium device" that "you are not going to see in the stands" so that "a very personal experience" can be offered.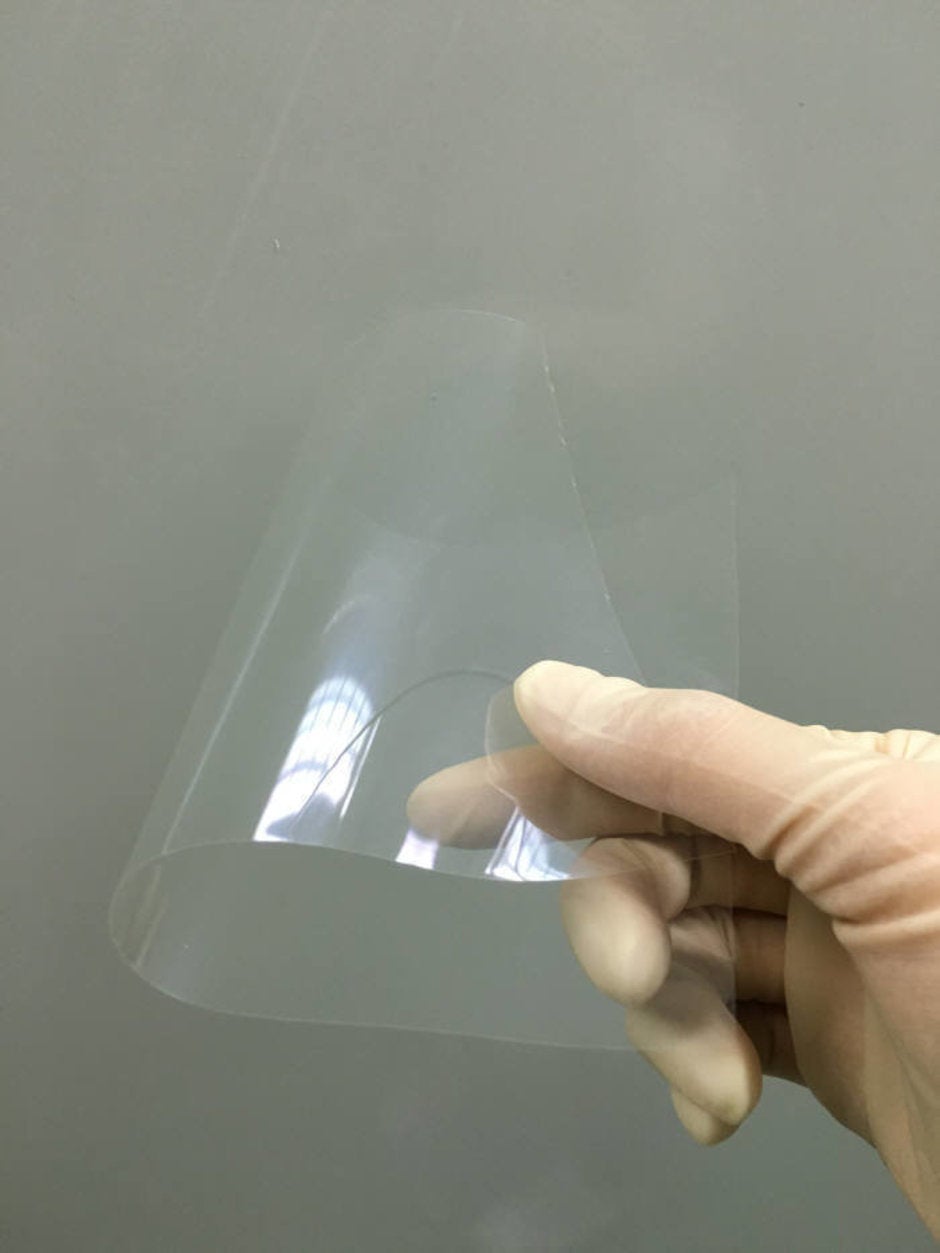 The thin PI display cover used in foldable phones
The production problems stem from the complexity of assembly, of course, given that the phone folds in half around a mid-screen fault line, but also from the sourcing of the specific components needed for said bending action.
Chief among those are the cover glass, or should we call it cover polyimide (PI) that has to be supplied by the Japanese from Sumitomo Chemical, as well as the special film type adhesive that Samsung has been developing for years. That in-house Optically Clear Adhesive (OCA) can stretch and shrink numerous times without unglueing the screen part or forming bulges.
Recently, a Korean supplier of these innovative PI cover started receiving big orders from other manufacturers bent on releasing foldable phones (see what we did there), like Huawei and Xiaomi. Samsung may have a contract with the Japanese, but the home turf supplier has the advantage of packaging everything in-house as a sole source which might eventually bode well for better availability of Huawei's
Mate X
and whatever
Xiaomi is concocting
, compared to Samsung's Galaxy Fold.