Samsung's Galaxy F foldable phone looks stunning in new concept video
19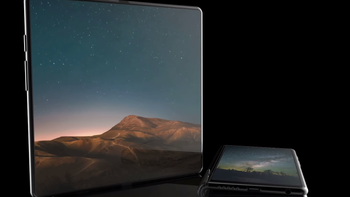 Last week, Samsung got on stage and showcased the capabilities of its newly-announced
Infinity Flex
display. The flexible screen can bend in the middle while working without image deterioration in unfurled state afterward, and do it hundreds of thousands of times. Expectations are that the tech giant will use it as a basis for its Galaxy F foldable phone that should
launch alongside the Galaxy S10
series in Q1 2019.
Although we only got a partial look at Samsung's prototype during last week's event, the tease was enough to inspire YouTuber
Concept Creator
. The result of this inspiration is a video that portrays the Galaxy F in a stunning fashion.
The obvious highlight of the 3D concept render are the two displays. There's an outer screen with Samsung's signature Infinity Display design. This side also hosts the selfie camera. A flexible external hinge separates the front and back sides of the handset. On the back, we have a dual-camera composition.
When this concept Galaxy F is unfolded and the large inner screen is shown, the device almost looks like the new
iPad Pro
but with even slimmer bezels. In case you're wondering, rumor has it that the two screens will respectively have 4.6-inch and 7.4-inch diagonals.
While this render is based on the prototype shown at the Samsung Developer Conference event, the
latest reports
indicate that Sammie is still to take a final decision on the end design for the Galaxy F. The Korean giant is apparently deciding between five different models, which means that the foldable phone may end up being a side-opening affair or go top to bottom like an oldfashioned flip phone.
Samsung is going produce at least
1 million units
of its foldable phone during 2019. Sources indicate that the device retail for about $1,800, which will likely limit sales. For comparison, the 512GB Note 9, which is the company's most expensive model to date, sells for $1,250. Despite the hefty price tag, rumor has it that the first Galaxy F won't feature 5G connectivity.