Samsung Galaxy Alpha vs Apple iPhone 5s – specs comparison and future expectations
65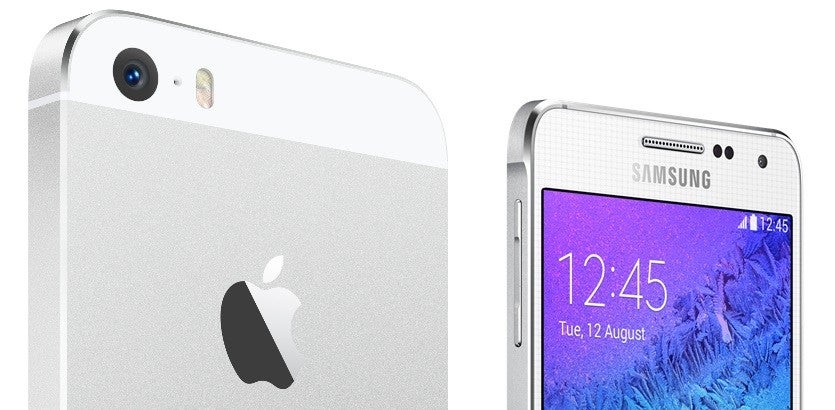 The iPhone's core strength has always been its premium design paired with good performance. Android phones, on the other hand, are striving to outperform it by becoming bigger, stronger, and faster, but not leaner. For a long time, the iPhone lacked a mainstream opponent to challenge it in its own elusive category of "compact premium smartphone".
Enter
Samsung Galaxy Alpha
. Although its 4.7-inch display makes for a bigger phone, the Galaxy Alpha is more compact than any of today's Android flagships, and is one of the few 4.7-inch smartphones that are built to impress. Does the Galaxy Alpha finally have what it takes to challenge the iPhone? Read on, and you will see.
Design
The iPhone 5s is the more compact and metallic of the two, but Samsung has made the slimmest Galaxy phone ever.
Both the Apple iPhone 5s and the Samsung Galaxy Alpha feature rigid and elegant rectangular shapes. A key difference is that the Galaxy Alpha has a meticulously sculpted frame made of polished aluminum, but the rest of it is built out of familiar Samsung plastic and adorned with a dimpled back like that of the
Galaxy S5
. Meanwhile, the iPhone 5s is carved out of one solid block of aluminum, which gives Apple the bragging rights to a sturdier build quality, at the expense of a removable battery.
Of course, the iPhone 5s is the more compact phone, measuring at 4.87 x 2.31 x 0.30 inches (123.8 x 58.6 x 7.6 mm) at a weight of 3.95 oz (112 g). In comparison, the Galaxy Alpha measures 5.21 x 2.58 x 0.26 inches (132.4 x 65.5 x 6.7 mm) at a weight of 4.06 oz (115 g). Note that the Galaxy Alpha is taller by 0.34 inches (8.6mm) and wider by 0.27 inches (6.9mm) than the iPhone 5s, but that didn't stop Samsung from making it thinner by 0.035 inches (0.9mm), and only 0.11 oz (3 grams) heavier.
What about colors? While the iPhone 5s is sold in Black, Silver, and Gold, the Galaxy Alpha will be available in Black, White, Gold, Silver, and Blue at launch. No pink? How disappointing!
Display
The Galaxy Alpha's larger display is a clear advantage over the iPhone 5s.
The Galaxy Alpha's larger display gives it a clear advantage over the iPhone 5s. Samsung's offering towards design-conscious customers goes for a large 4.7-inch 720p Super AMOLED panel that makes the iPhone 5s' excellent 4-inch 640p IPS LCD display look and feel minuscule. However, the Alpha's higher resolution isn't equal to a bigger pixel density. The resolution of 640x1136 on the iPhone 5s' 4-inch display calculates to 326 pixels per inch, while the resolution of 720x1280 on the Galaxy Alpha's 4.7-inch display equals 312 pixels per inch. Still, since you practically won't be able to spot the additional 14 pixels per inch on the iPhone 5s' screen, it's safe to call this a tie with the Galaxy Alpha.
But which screen looks better? We haven't tested the Alpha yet, but we can tell, based on our experience and preliminary screen measurements, that it will probably be on par with the excellent color reproduction of the iPhone 5s. A pleasing viewing experience is guaranteed on both.