Samsung GALAXY Note for AT&T will soon receive a 'suite' Ice Cream Sandwich update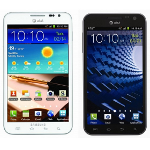 Update: Brace yourself! Samsung has passed along the word that the update will be coming to AT&T Samsung GALAXY Note owners on Tuesday! It won't be long now.
source:
Engadget
Back in March, Samsung announced that
in addition to Android 4.0.4, Samsung GALAXY Note owners would also be receiving the Samsung Premium Suite.
Those who have had the chance to see a sneak peek of the combined update say that it is coming soon. Of course, the regular Android 4.0 features will be added to the phablet, such as
Face Unlock
and
Android Beam
. Like it did with the ICS update to the Samsung Galaxy S II, the Korean manufacturer left the UI mostly the same on the Samsung GALAXY Note, not that anyone will probably complain about the lack of change for changes' sake. In other words,
if it 'aint broke, don't fix it
.
the feel of using a stock Android 4.0 device
. The update also brings an improved data usage tool that allows you to monitor how much data you're using and you can set it up to send you warnings at specific points, or have certain features turned off when you reach pre-determined levels of data use.
The additional Premium Suite is one of Sammy's Value Paks which comes with the
reworked S Memo app and the new S Note app
. The former offers a nice home page widget for those times when you need to jot down a phone number, address or just a thought and you can't find pen or paper. Isn't that just the sort of thing that a phablet would be handy for? S Note allows you to turn your handwritten notes into typed words which are then sent to Wolfram Alpha for more information. S Note also allows you to use the new Productivity Tools. Formula Match lets you scribble an equation and get the answer from
Wolfram Alpha. Shape Match turns your lopsided drawn circle into a perfectly round one.

All together, it adds up to some nice new features for Samsung GALAXY Note users, and it should be coming soon.
source:
SlashGear