Samsung Epic 4G finally getting its taste of Gingerbread
17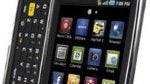 The Samsung Epic 4G, a popular
variation of the original Samsung Galaxy S
, is finally getting its serving of Android Gingerbread as Sprint has posted the update on the smartphone's software update site.
The Samsung Epic 4G was
slated to become an EOL
(end of life) device at the end of October. It has already had a shelf life of 15 months which is a long time nowadays. While the new update won't add any more cores to the processor or add the term Plus to the end of its Super AMOLED display, it will most certainly help make the Epic 4G feel new again in a time when a new flagship Android device is seemingly announced once a week.
The Epic 4G was and still is a solid device. Its
4-inch display
is still a beauty to behold and its snappy
1GHz Hummingbird processor
is a delight. It was only the second device on Sprint to run on the
4G WiMax
network, launching just two months after the HTC EVO 4G. It is also the only variant of the Samsung Galaxy S to have a full sliding QWERTY keyboard, a feature that attracted many.
The software update will bring some nice functionality to what is still a very good smartphone. Here is the list of improvements you can expect on your Epic 4G, according to Sprint:
- Upgrade of the Google OS from Froyo to Gingerbread (Android 2.3)
- Audible Sprint AIRAVE™ notifications when answering call
- SMS messages sent without area code
- PRL and Profile update
- EAS (Exchange Activesync) email displaying HTML
- Bluetooth headset sound improvements
- Fully visible date on device lock screen
Gingerbread is available now so if the Samsung Epic 4G is still your smartphone of choice then download the update and tell us what you think about it.
source:
Sprint