It's the end of life for the HTC EVO 4G, Samsung Epic 4G and other Sprint models
28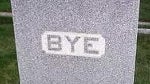 A leaked screenshot of an internal Sprint document was obtained by SprintFeed, and shows which devices
the carrier has branded as "EOL"
(end of life, although end of the line is more appropriate) and when the handsets will be phased out. Some of the phones being removed from Sprint's lineup are household names such as the HTC EVO 4G, the nation's first 4G enabled device. Also being phased out is the carrier's second 4G handset, the Samsung Epic 4G. Both devices have been replaced with newer models like the HTC EVO 3D and the Samsung built Nexus S 4G, offering the latest high-end specs to Sprint customers with the former adding 3D functionality.
The white version of the HTC EVO 4G will be removed from Sprint's lineup in September with the black model leaving the month after along with the Samsung Epic 4G. Other models that will no longer be available include the rough and rugged Motorola i1, a PTT Android handset with walkie talkie functions. That model leaves Sprint later this month or early next month, about the same time that the gray model of the BlackBerry Style 9670 says goodbye.
This week, the Samsung Seek in pink will be EOL as will be the Sanyo Innuendo in blue, starting next week. In September, the BlackBerry Bold 9650 with a rear camera will be gone, followed a month later by the Samsung Transform.
If you have an interest in picking up any of the models going EOL, your best bet is to check with your local Sprint store soon because the inventory of many of these units
won't be replenished
once they are sold out.
source:
SprintFeed
via
AndroidCentral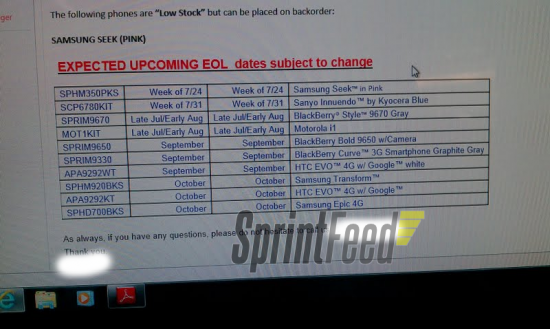 Certain Sprint models have reached the end of their life