Samsung Epic 4G Touch getting update to repair signal loss and other bugs
21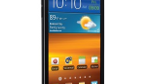 According to a source for
Android Central
who is using the
Samsung Epic 4G Touch
, the Korean based manufacturer has a been testing a patch to repair
problems that the phone has had with losing signals
. The bug seems to present itself in areas where 3G or 4G reception is spotty. When on 4G and leaving an area with 4G reception, or using 3G and leaving an area with 3G reception, the bug prevents the phone from realizing that it is sending out packets. As a result, when the old tower doesn't respond, the phone gives up and shuts down.
The update, which will eventually come via OTA , is
Android 2.3.6
with a baseband of SPD710.10.S.EK02, and a build number of GINGERBREAD.EK02. According to the source who is testing the patch, the official release could be disseminated some time next month if it gets the thumbs up from Samsung after testing. He was able to receive the update by sending email bombs to Samsung executives which resulted in a phone call with Bob Johnson. The latter is the manufacturer's top gun at customer service. In the meanwhile, the developer community is trying to speed up the repair by working on ways to filter out the OTA files so they can be used to kill the bugs dead before waiting around for Samsung's fix.
No matter who gets the repair out first, hopefully it will be soon so that owners of the device won't have to concern themselves with losing a signal and not being able to have it return in a timely manner. After all, the Epic 4G Touch is
too much of a beast
to have it rest like a brick in your pocket.
source:
Xdadevelopers
via
AndroidCentral