Samsung Craft, MetroPCS's first LTE phone, poses for a hazy photo shoot
7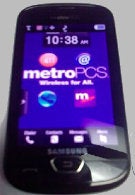 The article has been updated on August 8, 2010.
Samsung Craft was spotted to clear the FCC hurdles
. Now, a forumer who claims to be one of the chaps testing the Craft, obviously couldn't resist the temptation, and posted pictures of the dual-mode CDMA/LTE handset.
In line with what we have heard so far
, this LTE specialty is said to be priced around $300. We did expect somewhat more rigid specs than a supposed 3.2MP camera, but, oh, well, at least it has a flash on the back. The front has the ubiquitous back button, but the rest of the typical Android keys are nowhere to be seen – neither on the front, nor on the physical QWERTY keyboard - so if this is indeed the Samsung Craft, it is definitely not running Android, but a typical TouchWiz 2.0 UI for dumbphones. Makes us wonder how on Earth will those LTE speeds be enjoyed.
source:
PhoneNews
via
SamsungHub