Samsung ATIV Q hands-on
18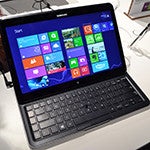 The dual-booting ATIV flagship tablet from Samsung has many different talents to show - one that starts with its crystal clear 3200 x 1800
pixel
'QHD+' resolution display, and that continues on with the transformer style hinge that rotates the said screen and hides a comfortable QWERTY keyboard underneath.
On the surface, however, the glossy black exterior of the ATIV Q appears all too modest - despite the use of the highly durable magnesium plastic in the 14mm thick body. And, just like any other recent Samsung-made smartphone or tablet, the ATIV Q feels disproportionally light for its size at just 1.29kg. The
13.3 inch display
promptly puts any doubts aside, having a pixel density of record high
275ppi
that clearly puts the ATIV Q in a league above most tablets currently out in the market. Similar to the ATIV Tab 3, the screen is also fully compatible with the S Pen that resides in its own compartment in the tablet.
After playing around with the tablet on the show floor, the slider mechanism failed to earn any brownie points - it was either too rigid, or we simply failed to apply pressure at the right spot. Looking past that, however, the hinge does support several traditional and non-traditional modes that add to the different use cases of the ATIV Q.
The specs of the ATIV Q leave hardly any area uncovered. At user's disposal is a fourth-gen
Intel Core i5 processor
with Intel's HD Graphics 4400 GPU and 4GB of RAM, while the official size for the built-in SSD storage is 128GB. Built into the side of the hinge, there's a micro HDMI and SD card slot, as well as a pair of USB ports - USB 3.0 and 2.0 - the latter, I was told, was included for 'compatibility' purposes.
While certainly not the first, the Samsung ATIV Q is part of the emerging breed of dual-booting tablets/convertibles. Alongside the grown-up version of
Windows 8
(Samsung was very specific to point that out), the ATIV Q also runs
Android 4.2.2 Jelly Bean
. There's no need to boot out of the system to access either OS - the switching is as seamless as double-tapping the Windows logo at the bottom of the screen. While Google's OS performed close to identical to what we've seen in purebred Android tablets, the idea of having two OS's running at the same time seemed a bit perplexing to us. Things start to make sense when viewed on a broader scale - the ATIV Q might be the most versatile, all-in-one tablet yet.
The ATIV Q has certainly garnered plenty of interest on the show floor at the Samsung event in London, perhaps only rivaled by the Android-based DSLR style camera,
the Samsung Galaxy NX
. It's a pity that neither of these gadgets could offer a concrete price tag or even a release window, yet you can be sure that we'll keep you informed as more details continue to emerge.