Samsung Galaxy NX hands-on
25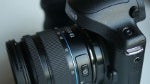 Introduction:
The
Samsung Galaxy Camera
was the first step in combining the best functions of a smartphone and camera together, but as usual, the company known to be one of the premier forces in the Android world is unleashing its latest iteration. Sure, we've already heard about the
Samsung Galaxy S4 Zoom
, which truly brings all of the comforts of a point and shoot to the smartphone form factor, but the
Samsung Galaxy NX
is targeted to those who have a special taste for
taking stunning photos
. Whereas as the other models aimed to make snapping photos simple, the Galaxy NX brings the full arsenal of your
traditional interchangeable lens camera
– with the vast sharing and deep functionality of the Android experience.
Display:
When its purpose is to take stunning and crisp photos, it's nice to find that Samsung didn't skimp out with the Galaxy NX's display. Just like the Galaxy Camera from last year, this is blessed with a sizable one that enables us to visualize our taken photos in full fidelity. Specifically, it's sporting one that's almost as gigantic as Sammy's flagship – a
4.8-inch HD (720 x 1280) TFT LCD display
. Certainly its resolution isn't as imposing, but regardless of that, it gets the job done when it comes to snapping photos, outdoors even. Unlike its AMOLED panels, the TFT LCD one in the Galaxy NX delivers colors that are more realistic, while at the same time, its viewing angles are effective enough to allow us to preview shots outdoors as soon as they're taken.
Design:
Glancing at the Galaxy NX, it's evident that it's
styled like many popular DSLR cameras
– as opposed to having a smartphone body first, with camera elements smacked on. We have to say, its
build quality feels excellent
with its frame, as there's a subtle rugged aspect to its finish. Looking at the by itself, it's rather skinny in frame for a DSLR camera, but it's broken up by the grip handle, which provides plenty of comfort when it's being held because of its ergonomic design. Naturally, the lens barrel is the centerpiece of the Galaxy NX – thus, providing the instant distinction of it being a camera first and foremost. Overall, Sammy has done a wonderful job with the Galaxy NX, as its frame is solidly built. Sure, there's a tiny bit of weight associated with it, but heck, it'll vary depending on what lens you put on there.
Switching gears over to the camera portion, the Galaxy NX is packing along a
20.3-megapixel APS-C CMOS sensor
, which is undoubtedly beefy in the smartphone world, but it's a relatively common size for DSLRs. Naturally, it's all about taking photos with this one, so if you're concerned about those low lighting scenes coming out dark, you won't have to worry seeing that its
ISO
can go up to as much as
25,600
. Better yet for those who currently have an existing Samsung NX series camera, they can simply pop their existing lens to this one – so that's the beauty in being able to swap out lens depending on the occasion. In the video front, it has all the expected video recording formats we'd find on dedicated cameras – like
1920 x 1080 videos in 25 fps
. However, we would've liked to see a front-facing camera put on this thing as well, to take advantage of all the new shooting modes that Samsung developed for the Galaxy S4.
Interface:
Well, since this is powered by the
Android 4.2 Jelly Bean experience
, it proves to be a versatile thing with all fronts. However, Sammy has focused the attention with the camera interface, which mainly relies on the same UI scheme we've seen already with the Galaxy Camera. This time around, though, they've thrown in a plethora of '
smart modes
' with the camera experience – the figure is actually
30
. For example, it features 'multi exposure' that merges two different shots together to produce one distinctive image, 'animated photo' connects continuous shots of up to five seconds, creating a moving GIF file, and 'sound & shot' stores sound and voice together as the picture is taken. As for the performance from our quick look, we're happy to see that things are fairly snappy, which is thanks in part to its
quad-core 1.6GHz processor
.
Expectations:
No doubt, hardcore shutterbugs are going to be drooling over this latest gadget from Samsung's camp. Unfortunately, Sammy has yet to provide specific information related to release dates and pricing for the unit. In the end, pricing will play a crucial role in its success – as well as being widely available amongst wireless carriers. Offering a considerable amount of flexibility, especially with all the various interchangeable lenses that Sammy currently offers, the Galaxy NX is sure to appease a certain demographic, but there's something in the back of our minds that some would probably opt to choose the GalaxyS4 zoom for its portability. Yes, it's nice that 4G LTE is offered with this, but it makes us wonder if the cost would've been reduced if they opted to omit it – and instead, strictly rely on Bluetooth and Wi-Fi connectivity.