Samsung & Best Buy launch 'Pink Gold' Galaxy S7 and S7 edge retailer exclusives
21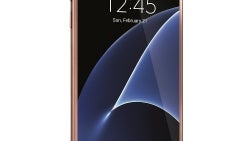 It looks like Samsung and Best Buy have teamed up for a deal in the U.S. that will see the retail chain receive an exclusive "Pink Gold" color variant of the Galaxy S7 and S7 edge. It looks exactly like a Rose Gold finish, and we find it quite mature and delicate-looking, despite pink's inherent flashiness. The finish covers both the front and back panel of the handset. The new color will be available for all four carriers, that is Verizon, Sprint, T-Mobile, and AT&T.
Buying from Best Buy also means customers are treated to a $150 gift card when they activate the smartphone inside the store, which means you'll be able to pick up a nice case and other accessories, or something else, if you wish.
Of course, not all customers will be happy that they didn't get to buy this color from the get-go, and not everyone is into the idea of Best Buy exclusives. But hey, you can't please everyone, and besides, Samsung might have felt that the Galaxy S7 and S7 edge need a little bit of sales pushin' right about now, following the Note 7's successful launch and the impending releases of the LG V20 and iPhone 6SE/7/whatever Apple has in store in September. Introducing a new color option is one way of lifting things up.