Sale alert: Android's most popular keyboard SwiftKey 3 is 50% off for Black Friday
6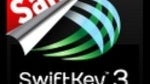 The most popular keyboard app for Android SwiftKey just got the obligatory holiday discount, and now sells for 50% off its regular pricing. That puts SwiftKey 3 and Swiftkey 3 Tablet at just $1.99, so there's no excuse now to hold onto that buying trigger.
Unless you are addicted to Swype-style input, of course, like we are, as this is not coming until
SwiftKey Flow hits the market
, but you can go to the SwiftKey website and sign up for the beta, and the devs will let you know when you can get it for testing purposes.
Other keyboard like Swype or SlideIT offer the finger trail input, but SwiftKey is one step ahead in text prediction, which is major selling point. Head over to the Play Store in the link below and get your two-bucks SwiftKey copy if you swear by that on-screen keyboard and have been putting off the purchase for some reason.