ST-Ericsson to showcase a 3 GHz smartphone chipset with global LTE radio at MWC
17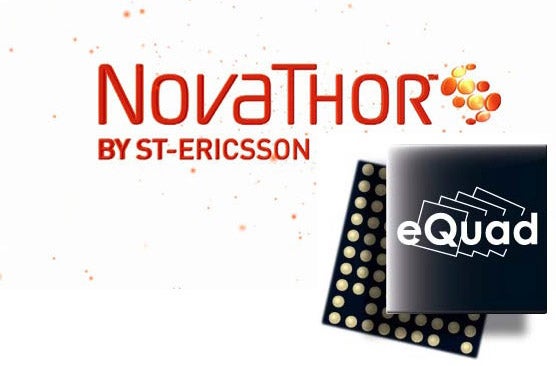 ST-Ericsson
is pretty much alive as a mobile chip maker and will demo its new 3 GHz NovaThor L8580 at Mobile World Congress in Barcelona. The company is of the few, along with Qualcomm, that offers true system-on-a-chip, complete with a baseband radio, and that is precisely what it will demo - a full smartphone platform with its 3 GHz eQuad CPU integrated with multimode LTE radio that has embedded Carrier Aggregation functionality.
NovaThor L8580 is built with the modern 28nm process and ST-Ericsson claims it allows speed "normally reserved for the PC market," as well as 35% reduction in power consumption compared to leading ARM-based chipsets at similar frequencies.
For its market-ready version, the company will release the SoC with 2.5 GHz eQuad CPU that is derived from ARM's Cortex-A9 architecture and there will be a 600 MHz PowerVR SGX544 GPU attached, the LTE Advanced modem, and the usual Bluetooth, GNSS (GPS+ GLONASS), FM, WLAN, WiFi Direct, Miracast and NFC radios built in from the get go.
ST-ERICSSON BRINGS PC SPEEDS TO MOBILE DEVICES: FIRST 3GHZ SMARTPHONE PROTOTYPE DEMO AT MOBILE WORLD CONGRESS

February 20, 2013

L8580 is the fastest, coolest, integrated Application Processor and LTE Advanced Modem platform based on 28nm FD-SOI process technology
Geneva, February 20, 2013 – Next week at Mobile World Congress in Barcelona, ST-Ericsson, a world leader in wireless platforms and semiconductors, will demo the NovaThor™ L8580 integrated smartphone platform with a 3Ghz eQuad™ application processor and a multimode LTE Advanced modem supporting Carrier Aggregation. By demonstrating the L8580 at this speed, ST-Ericsson is revealing the world's fastest smartphone processor and validating the company as an innovator in the wireless market.
"Our next-generation NovaThor platform is creating a disruption for the wireless industry by combining some of the most advanced technologies on the market, including STMicroelectronics' 28nm FD-SOI process technology, to deliver a real industry breakthrough in terms of speed, power consumption and overall performance," said Didier Lamouche, President and CEO of ST-Ericsson. "We focused on innovation on real world use cases and delivered a ModAp that lets applications run significantly faster – up to 35% faster CPU while GPU and multimedia accelerators run 20% faster. With the NovaThor L8580, ST-Ericsson is bringing speeds normally reserved for the PC market to mobile devices."
The initial commercial version of the NovaThor L8580 integrates an eQuad 2.5GHz processor based on ARM Cortex-A9's, a powerful Imagination PowerVR™ SGX544 GPU running at 600Mhz and an advanced multimode LTE modem supporting Carrier Aggregation on a single 28nm FD-SOI die.
The NovaThor L8580 supports 3GPP Release 10, LTE category 4, with downlink speeds up to 150Mbps. It supports LTE-FDD, LTE-TDD, HSPA+, GSM and TD-SCDMA in the same chipset as well as VoLTE and HD voice. With up to 17 bands in the same device and a single radio for Carrier Aggregation the L8580 addresses device manufacturers' needs for a simple and cost effective solution to build global LTE smartphones with the smallest number of manufacturing variants.
"In addition to speed and multiband support, the NovaThor L8580 consumes 35% less power than rival architectures at comparable high frequencies. And last but not least, the L8580's ground breaking 0.6V low power mode consumes 50% less power at 1GHz redefining the active standby experience for users of mobile devices while adding hours of battery life," continued Lamouche. "All of these factors highlight the innovation and product differentiation that ST-Ericsson can now deliver to its customers."
The complete platform includes outstanding multimedia performance and pre-integrated connectivity with support for Bluetooth™, GNSS (GPS+ GLONASS), FM, WLAN, WiFi Direct™, Miracast™ and NFC. With ST-Ericsson's connectivity solutions, CG2905 and CW1260, the platform comes optimized for wireless radio co-existence and low power consumption.
The NovaThor L8580 is pin-to-pin and Software compatible with ST-Ericsson's first generation NovaThor LTE multimode platform the L8540.
The NovaThor L8580 will be demoed at Mobile World Congress in the ST-Ericsson Public Booth in Hall 7 (#E111) and, by appointment only, in our Private Pavilion in Hall 2 (#D90).
ABOUT ST-ERICSSON
ST-Ericsson is a world leader in developing and delivering a complete portfolio of innovative mobile platforms and cutting-edge wireless semiconductor solutions across the broad spectrum of mobile technologies. ST-Ericsson was established as a 50/50 joint venture by STMicroelectronics (NYSE:STM) and Ericsson (NASDAQ:ERIC) in February 2009, with headquarters in Geneva, Switzerland.
www.stericsson.com
www.twitter.com/STEricssonForum