SMS and call blocking part of Nokia update
18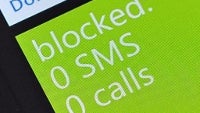 Nokia has been able to cover for Microsoft in some situations where the guys at Redmond were taking a bit too long fixing a bug, or giving Windows Phone users certain capabilities that other smartphone platforms already give their users. Nokia has just started sending out an update for the
Extras & Info
part of those Nokia Lumia handsets that
already have the GDR2 update
loaded on their device. That includes models that were pre-loaded with the update like the
Nokia Lumia 1020
, the
Nokia Lumia 925
and the AT&T version of the
Nokia Lumia 520
. In addition,
some unlocked Windows Phone 8 models received the GDR2 update overseas
while carrier branded units in the U.S. should start to receive it later this month. Nokia users will have the
GDR2 update combined with the OEM's Amber update
.
This extra update for GDR2 enabled Nokia Lumia phones allows users to
block certain phone numbers
from making calls and also blocks certain contacts from sending you SMS messages. The update gives you an updated
Extras & Info
section with a new heading called "Call + SMS Filter". As you can see from the screenshots in the slideshow below, there is nothing terribly headache inducing here, although some Nokia Lumia users contend that the feature is carrier-blocked by some mobile operators. Finding out that your carrier has blocked the new features that allow you to do some blocking, is enough to make you reach for the aspirin.
One of the cool features in the update is the one that allows you to link a Live Tile to the Start screen so you can monitor how many calls and SMS messages have been blocked. You can also check out the new features by watching the video below. If your Lumia model doesn't have the GSDR2 update yet, this will be the closest that you get to the
Extras & Info
update for now.
source:
WMExperts
,
WPCentral
via
DailyMobile