S7 edge and Note 5 score exclusive Weather Channel app with edge alerts and smart alarm
13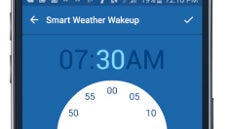 The Weather Channel is one of the most popular rain or shine forecasting services there are, that is why it's somewhat exciting to find out that it has teamed up with Samsung on exclusive software for some of the top-shelf Galaxy line members, as part of the "Made for Samsung" project that the company announced back at the CES. Your
Galaxy S7 edge
,
S6 edge+
, and the
Note 5
are all getting a combination of tailored weather app, widgets, edge alerts and unique alarm, courtesy of The Weather Channel.
The so-called Smart Weather Wakeup is perhaps the most intriguing of the new options, as it will wake you up a bit earlier than scheduled if it has started raining outside, to give you time to dress accordingly. Even more prep time will be allocated if it has started snowing while you slept, so "smart" is a fitting word for this new alarm.
The two phones will flexible displays here will also get edge alerts for extreme weather, while all will be able to set custom wallpapers for within the app. Last but not least, the new Weather Channel piece of kit comes with its own floating shortcuts. To get the exclusives, head over to the Galaxy Apps store on your S7 edge, S6 edge+ or Note 5, and search for the Weather Channel offering.