S Pen on Note 7 got stuck? How to fix a stylus jammed by pushing too hard in
15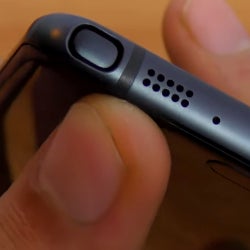 New S Pen, new insertion dramas for the clumsier among us. While Samsung quietly
fixed the little lever inside the Note 5's silo
that allowed for its S Pen to get stuck if you
insert it backwards
, and it did away with that engineering solution altogether with the Note 7, some people still managed to get their flashy new color-coordinated S Pen stuck in the water-tight silo of the
Note 7
.
How did they do it? Well, on average it seems that the owners are exerting too much pressure while placing the S Pen back in the Note 7's silo, and push too hard so that the top of the pen can't be pushed back up, and gets stuck into the silo at a level lower than the metal side surface of the phone.
The power of the spring is not enough to push the top back up once you've shoved it in too hard, and it just languishes there in the deep rabbit hole. What to do? Well, two things:
1. Avoid jamming the S Pen too hard in the silo and pressing on the top hard to push it inwards for a period longer than a second or two. Just slide it in normally until it is almost there, and returns some resistance to be pushed further without activating the spring at the top. Click it in for a brief second, and that's it - the top of the S Pen sits nice and tight in the silo, flush with the side surface, as it is intended to be;
2. Once you've managed to push the S Pen inwards too hard, and the spring doesn't have the power to push the top back through the silo's entry seals, it won't come out no matter how hard you push it in further, you can only exacerbate the situation. Take a pin or a needle, and carefully pry up the S Pen top using the silo wall as a fulcrum, it should spring right back up to remain flush with the side surface, it just needs a little help along the way. You can try and wrap the pin's blade in a thin cloth or paper so as not to scratch any edges by accident.
3. It seems that this problem goes away the more you use the S Pen and place it back in the silo, as it settles into the tight silo, so even if it gets stuck from too much pushing initially, just pry it up a bit with a pin, and the issue should go away on its own. Or, just push gently until it clicks.