Russian girl cooks a Galaxy Nexus to get back at her boyfriend, sexy destruction pics ensue
29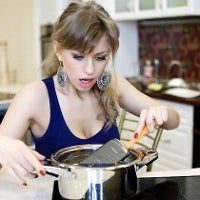 This smells like a marketing stunt all over, but since the girl is pretty hot, we don't care one bit. A Russian girl is supposedly subjecting her
Samsung Galaxy Nexus
phone to all kinds of torture to get back at her boyfriend, as he is the one that bought her the phone.
Well, apparently the guy also turned out phoney (see what we did there), and did or didn't do something for March 8, the International Women's Day, which is obviously pretty big in Russia, so the poor handset gets used as a chopping board, dipped in eggs and splattered with ketchup.
The culmination is when the Galaxy Nexus gets tossed in boiling water and simmered until cooked, then put in a blender. After all of this, the handset supposedly still works, so the girl's efforts to psychologically get rid of her guy's (in)action by destroying the device didn't work.
Oh well, looking at her, she shouldn't have much trouble finding a new boyfriend that will buy her the
$3690 Tag Heuer Android phone
, and that thing is rugged.