Android goes rugged luxury with the $3690 titanium Tag Heuer Racer
15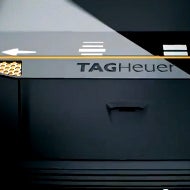 Wrist watches have long been on the way to obsolescence, sent there by our feature and smartphones, but not the luxury kind, which are status symbols.
Still, Swiss watch maker Tag Heuer doesn't want to stay behind with the times, and is prepping a rugged luxury (oxymoron?) Android handset, called the Racer.
The firm's mum on the silicon used - it says only a "high speed processor" with the "latest Android software" and a 3D user interface, so at least dual-core and Ice Cream Sandwich should come standard. The Racer portfolio includes other models and is expected to launch in July, starting from $3690. Rugged luxury don't come cheap, eh?
Tag Heuer is no rookie when it comes to luxury phones, as confirmed by last year's
MERIDIIST Indonesian snake skin featurephone
, or the
LINK smartphone
in your choice of stainless steel, gold, calfskin leather, with lizzard and alligator skin accents. Compared to the LINK's $6700 last year, the Tag Heuer Racer looks like a true bargain.