Rundown on upcoming T-Mobile launches includes HD2, Gravity 3 and myTouch 2
17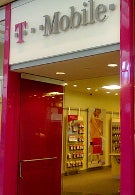 Many cellphone fanatics have already declared 2010 to be T-Mobile's year for releasing the majority of hot, desirable devices. As a good indication of what the nation's fourth largest carrier will be offering this year, the first half of 2010 will see a number of highly anticipated phones and other accessories. Tmo News ran through the list, confirming the launch date for some and giving out new launch dates for others. It is a list that includes the super sexy HTC HD2 and the Motorola CLIQ XT to name just a couple. So get out your calender and your box of 528 Crayola Crayons (that's the box with the sharpener on the back) and start making plans.
The launch party starts March 3rd with a color refresh for the Samsung T469 Gravity 2 in Deep Ocean Blue as we recently
reported
. March 10th is when T-Mobile is expected to launch the Motorola ZEPPELIN/CLIQ XT which is the CLIQ sans a physical QWERTY, but dressed in Android of course. Just four days later. the Webconnect Rocket gets released to become the carrier's and the nation's first HSPA+ modem. The Nokia 5230 Nuron is penciled in for the 17th of March, aimed at those who have never owned a touchscreen device before. A week after that comes the big one, the launch that every handset junkie has been waiting for. On March 24th, time stands still and the gates of Heaven open up to reveal the super sexy, highly desired HTC HD2 carrying its massive 4.3 inch capacitive touchscreen and powered by Windows Mobile. Many of you have tracked the progress of this phone from the "Leo" days, have watched a countless number of videos and have daydreamed about stuffing this beast in your pocket.
Moving ahead to May 19th, T-Mobile is expected to release the myTouch Slide aka myTouch2 which includes a physical QWERTY keyboard. The Samsung T479 or the Gravity 3 is set to be released on June 23rd in Indigo or Rum along with the Samsung T669 which is offered in Steel. June 30 brings the LG GS 505 in Navy Blue. Not much is known yet about this handset although it did visit the FCC last week.
So that's it. Obviously, things will probably change along the way, some models might get added and more info will be known as we get closer to launch dates. It is an ambitious schedule and one that should bring some new accounts T-Mobile's way.
Samsung Gravity 2 Specifications
|
Review
Motorola CLIQ XT Specifications
|
Hands-on
Nokia Nuron Preliminary Specifications
HTC HD2 Specifications
|
Review
(Overseas)
myTouch Slide Preliminary Specifications
source:
TmoNews