Rumors of HTC One Windows Phone edition return
39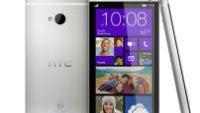 A while back, we heard that HTC might be working on a
Windows Phone variant
if its beautiful HTC One Android handset. The rumors disappeared for quite a while, and were replaced by talk that HTC might be
abandoning Windows Phone
altogether in order to focus its efforts on Android. But, HTC has since reconfirmed its commitment to Windows Phone, and that has brought the return of the HTC One Windows Phone edition rumors.
Unfortunately, there isn't a lot of new info on the plans since we last heard about them back in June. The new report is saying that the new HTC Windows Phone device will be based on the HTC One, meaning it will feature a 4.7-inch 1080p Super LCD3 display. It will also feature 2GB of RAM, 32GB of storage, and of course Windows Phone GDR3, which is needed to support the 1080p display.
After the story about HTC losing interest in Windows Phone, the Senior Global Online Communications Manager at HTC, Jeff Gordon denied the story, and said that HTC is "absolutely dedicated to [its] Windows Phone lineup." The original rumor of the HTC One WP edition called for a fall release, and that is still the expectation, since the WP GDR3 update isn't due until fall.