Rumor says HTC may produce a Windows Phone version of the One
99+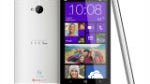 General consensus is that the HTC One is one of the best smartphones on the market. It has amazing industrial design, and a spec sheet that can compete with anyone. But, what if you don't really want Android, and would prefer to have a Windows Phone HTC One? Well, that may soon be possible according to a new rumor.
According to a source for Neowin, HTC is working on a variant of the HTC One that will come with Windows Phone. It isn't exactly the same, and the source said that the screen would be somewhere between 4 and 5 inches, so that means it could either be a modified HTC One (4.7" display) or HTC One Mini (4.3"). We doubt that HTC would make an entirely new device for WP. The device is also said to have the same metal body and Beats Audio.
The source also said that it was loaded up with Windows Phone GDR 3, which will bring support for both 1080p displays and quad-core processors. It hasn't been confirmed, but it is assumed that it will also feature the UltraPixel camera.
The source says that the device will be announced in the fall and later this year. It would certainly be impressive to see Windows Phone on that kind of hardware. We're not totally sure that Microsoft would allow the customizations needed to make Beats and the UltraPixel camera work properly, but we'd certainly hope so.