Rumored Sony Ericsson WP7 smartphone is just a canceled prototype
2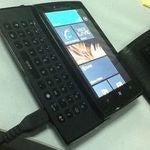 Remember the blurry photos of an
unknown Sony Ericsson smartphone
, which we showed you a couple of days ago? Well, it turns out that what could have been the company's first device to run Windows Phone 7 is nothing but a canceled prototype unit.
News came from the Russian blogger Eldar Murtazin, who had his fifteen minutes of fame after his Nokia N8 review resulted in Nokia taking legal actions against him. According to Murtazin, the device was really planned for release by Sony Ericsson, but eventually the project got scrapped at some point last year, possibly in favor of other Android smartphones.
That doesn't necessarily mean that we are not going to see Sony Ericsson smartphones to run WP7, but it is surely not going to be the one on the leaked photos. Android still seems to have the higher priority in SE's plans leaving no resources for implementing other platforms. Nevertheless, we will be paying attention to whatever Sony Ericsson has to say at CTIA in a couple of weeks.
source:
IntoMobile