Rumor: Apple's next iPads may get higher resolution screens
28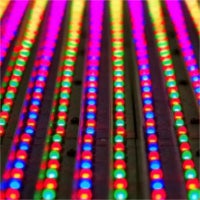 iOS developer Hamza Sood enjoys tinkering with the beta builds he gets, it seems. Last week,
he found a hidden pane
in the iOS 8.1 beta 2 that pointed towards Apple Pay and fingerprint scanners for the next generation of iPads. Now, he has uncovered something that hints towards higher resolution screens.
Sood dug up the graphics for the clock app, and found that they are offered in 3 variants for each piece – "iPad", "2x~iPad", and "3x~iPad", with each following variant being higher resolution and more detailed than the last. This leads to the speculation that, if "iPad" files are with a resolution, accommodating the
iPad
and
iPad 2
displays, and the "2x~iPad" files cater towards the Retina displays, then the sharpest "3x~iPad" files are made for a yet unreleased display panel - possibly Retina HD.
Apple did dub the displays on the new iPhone 6 units Retina HD – presumably, because they have a higher resolution than the iPhone 5s screen panels. Still, the
4.7" model
's resolution is 750 x 1334 pixels, which led to the PPI count to remain the same as before – 326, whereas the
iPhone 6 Plus
did benefit from a bumped-up 1080p resolution, with its PPI jumping up to the formidable 401.
So the rumors now speak of Retina HD iPads, but judging from the numbers above, it is too early to jump up and giggle in excitement, as apparently, the "HD" is a very broad definition. The new resolution files could also point towards the rumored 12" iPad Pro, but this is a barely-whispered-about product, so we won't go into speculation about that.
All in all, the Apple event, where Cupertino will supposedly unveil the next gen iPads, is
only 6 days away
, so we'll know soon.