Rogers and CIBC to launch "suretap" mobile payment service on October 15th
1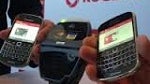 The Canadian carrier has teamed with CIBC to allow customers of NFC-capable devices to make payments against their CIBC Visa or Mastercard.
Initially, the service, called "suretap," will only be available to Rogers customers with an NFC-enabled BlackBerry, and an NFC-enabled SIM card. Of course, using the service means downloading a CIBC app with which customers must validate their credit card credentials with. Rogers indicates that other devices will be supported "soon."
What happens if your phone is lost or stolen? A quick call to CIBC and they can shut down the NFC SIM immediately. Also, the bank will continue to monitor transactions the same way they do traditional card-swipe transactions and will be able to detect potential fraud based on customer patterns and frequency.
The service will allow customers to charge up to $50-Canadian per transaction against their credit card by simply touching their device to a point-of-sale terminal. Rogers stores should have the NFC specific SIM cards available beginning Monday, October 15th.
While this is not a massive market rollout on a revolutionary scale, it is a step in the right direction where many may agree that in the foreseeable future, payments via NFC-enabled devices will likely be as ubiquitous as credit cards are today.
source: Mobilesyrup (
1
,
2
)