Rockstar bringing GTA3 Anniversary Edition to select Android and iOS devices next week
13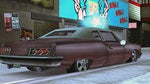 Rockstar Games wants to celebrate the 10th anniversary of their sales-record-shattering game in style, so they will be releasing an Anniversary Edition Grand Theft Auto III game to Apple and Android devices. Or at least those powerful enough to power through Liberty City in style.
The game will be released to the respective app stores on the 15th for $4.99. For fans of fruit-flavored mobile devices,GTA III will run on Apple's iPad and
iPad2
, along with the iPhone 4 and
4S
. It will also run on
4th generation iPod Touch
PMPs. For those who prefer the robot-themed OS, you can run the game on most Android tablets, along with dual-core Android handsets. A full list of devices (which is being updated) can be found in the source list.
This will apparently be the entire GTA III game, not a "lite" version stripped down to fit on your phone. Rockstar said they will be providing a new trailer next week, to coincide with the release of the game into the app markets.
Anyone looking forward to picking this up and spending countless hours this holiday season jabbing your fingers at a touch-screen device?
source:
Rockstar
via
Engadget