Rock steady: here is the 2014 flagship phone rank for best battery life
94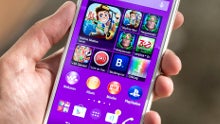 This year is arguably the first when smartphone battery life got a more serious focus from manufacturers, and received a significant boost on average as a result. Shaking your head in disbelief? Just look at the graphs below, where we rank flagship smartphones by battery life, according to our own benchmarks. Notice the overarching trend? Yep, we are getting about 25-100% longer battery life from this year's flagships, compared to their 2013 editions.
Not too shabby, and we also have to add the proliferation of actually useful battery saving modes to this pleasant trend. Samsung started it off with its Ultra Power Saving in the
Galaxy S5
that goes as far as switching to a black&white mode for the display when the battery falls under a certain threshold, but all major makers are following suit now - HTC calls it Extreme Power Saving, with LG we have Battery Saver, Sony titled it Ultra STAMINA, while Huawei echoes Samsung with an Ultra Power Saving regime, for instance.
Furthermore, this remarkable battery life boost this year can't be attributed to some huge leaps in battery capacities from one year to the next. As you can see in the first slide below, Sony managed to double the battery life of its flagship Z-series with a negligible increase in battery capacity, and is currently topping the charts. Samsung also achieved a sizeable endurance increase with a modest battery bump, meaning that manufacturers are now taking a more comprehensive approach, placing more frugal components, especially screens, and optimising power consumption on the whole.
A notable exception is LG, which kept the battery capacity from the
G2
to the
G3
, but outfitted its flagship with a ultra high-res Quad HD display, which takes a significant a toll on the battery life. Thus, the G3 remains the only flagship this year, whose battery life didn't improve over its predecessor. Apple's new iPhone editions are also bucking the trend, marking only a modest improvement, due to their larger, higher-resolution displays. In any case, we have evidently moved from one-day smartphone battery life, and are now bordering on the 48-hour mark with average use on some flagships, which bodes well for all weekend warriors. Hopefully, next year we are going to witness three days of stamina, or even more, so we can finally cut the umbilical cord of our chargers.