Reviveaphone is here to try and bring your drowned phone back to life Baywatch-style
5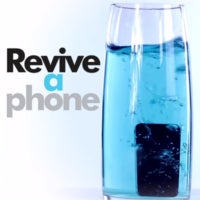 So, you've dropped your non-water-resistant smartphone in a pool of water and you are already picturing the horror of losing all those pictures and data, recovering all those contacts on a new device, and dropping a big bag of cash for the latter. Unfortunate accidents like this do happen, not to mention that some people have the bad luck of going through more than one such occurance in their lifetime.
Thankfully, phone repair solutions are moving ahead in tech and innovation just as much as the phones themselves. One such solution is the Reviveaphone Repair Kit. It was designed especially to recover your semi-drowned phone, before permanent damage has been done to it.
See, water by itself does not damage your phone. It is the minerals that it brings with it on a tour of your phone's internals that do. They short circuit the connections and cause the phone to malfunction, but as long as there's no critical damage done, the phone is still prone to rescue. That is why it is recommended that you turn your phone off immediately after you take it out of the water – that way you minimize the chance of a fatal short, so long as one hasn't happened already.
Reviveaphone's Repair Kit is essentially a special liquid, designed to clean up your phone's internals from the water's damaging minerals. In order for it to work, you need to douse your phone in it and keep it there for 7 minutes. That's a leap of faith, considering you just pulled your phone out of a pool of water, we know, but still – this is how it does its magic. Once the 7 minutes are up – leave your phone out to dry for 24 hours before turning it back on. If it doesn't work – don't panic – wait 24 hours more. If it doesn't work again – feel free to panic. Still, Reviveaphone touts a 95% success rate, so – fingers crossed!
The kit costs around $25 (£14.99) and can be bought from Reviveaphone's website, linked below.
source:
Revivaphone
via
Clove