Reviewers take on Jobs makes it clear that the film is not the apple of their eyes
46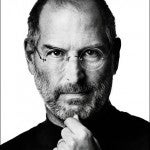 The other day, we showed you part of the opening scene to the movie Jobs (note the new title),
a scene that Steve Wozniak said never happened
. The movie's publicist responded to Wozniak's criticism that the movie got the his and Jobs' personalities mixed up in that scene by saying that "
The film is not a documentary, nor is it meant to be a blow by blow, word for word account of all conversations and events
." But what did the critics think? After the movie was screened at the Sundance Film Festival, the
reviews were mixed
.
natural drama
that could be found in the story, one reviewer said that it wasn't seen in the film. Another called it a "made for TV movie" that was as superficial as reading the Wikipedia page about Steve Jobs.
If there was one constant about the reviews, it was the priase heaped on Ashton Kutcher for a role he was born to play. Many reviewers, even those who thought the movie was not special, came away calling it the
performance of his career
. The movie opens April 19th and while there is no mention of the Apple iPhone or Apple iPad, it seems that the film does show Jobs' introducing the first Apple iPod.
So will you see the movie? Even if you are not a fan of the man or the products he designed, you might find yourself taken with the story, even if it has been enhanced and twisted for the giant screen. In other words, it is entertainment, nothing more and nothing less.
"I don't know if there's ever been an entrepreneur who's had more compassion and care for his consumer than Steve Jobs. He wanted to put something in your hand that you could use and you could use it easily… and he really cared about that."-Ashton Kutcher

"The film is not a documentary, nor is it meant to be a blow by blow, word for word account of all conversations and events. The filmmakers have tremendous admiration and respect for Wozniak and all those that are portrayed in the film, and did extensive research in an effort to make an entertaining accurate film that captures the essence and story of Steve Jobs and those that built Apple with him. The filmmakers acknowledge that not every single thing in the film is a precise representation of what took place, but is feature film entertainment about one of the most important, creative and impactful people [in] our culture's history taking place over three decades [that are] compressed into a two hour film."-Amanda Lundberg, Jobs publicist
source:
Forbes