Retrospective: LG's best phones from the last 10 years, culminating with the new G3
39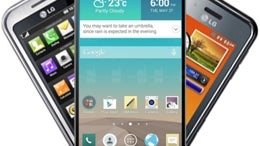 With
the G3
- announced earlier today - LG became the first major company to have a Quad HD (1,440 x 2,560 pixels) smartphone. Sure enough, Samsung, HTC and others may follow shortly, but, for now, it's LG that's making headlines.
The new G3 is LG's flagship for this year, and seems to be one of those devices that history won't forget too soon. So we thought that its announcement day would be perfect for taking a look at LG's best handsets introduced in the last decade - from 2004 to 2014 - and see how the South Korean company evolved to become what it is now. It's nothing short of amazing how far technology has changed in only 10 years (which isn't that much if we think about it in the grand scheme of things). Of course, this is true not just for LG, but for most manufacturers out there.
The handsets seen below may be different from
your
favorite LG phones, and, if that's the case, feel free to leave a comment and mention what LG phones from over the years you liked best.
Recommended Stories