Retina Display games and apps for the new iPad
9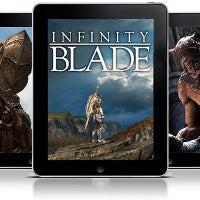 The new iPad is finally here and while you're still probably chewing over its crystal clear new Retina display, Apple is not wasting any time and is already putting those pixels to work. Every single one of the
3.1
million in total.
How? The new iPad has more memory or screen resolution than either the Xbox 360 or the PS3, so it's first of all games of course.
Here is what Apple demonstrated on stage today:
-
Sky Gamblers
by namco: a very realistic flight simulator making those pixels sweat. Exclusive to iOS, launches later this month/
-
Infinity Blade Dungeons
by Epic: the continuation of the Infinity Blade saga, but this time with even more detail. "The Unreal engine is unleashing the power of the new iPad," Epic summarized.
-
SketchBook Ink
by Autodesk: a new drawing application. Suffice to say that Autodesk drew an amazingly detailed flower on stage and that the app can export images bigger than 100 megapixels. It can also import pictures from SketchBook Pro. Exclusive to iOS, available in April.
-
iPhoto
by Apple: a new arrival on iOS. iPhoto is a comprehensive photo editor that you might know from the Mac.
-
iMovie
by Apple: updated for the new iPad.
"Retina display is luscious. It takes it to the next level and creates an immersive environment.​ Professionals and everyday artists are going to love this device,"
Apple concludes. What's more - we think that baristas will enjoy it too, what's your say on that?
source: Apple