Google's 7" tablet made by Asus to hit shelves in July with an initial batch of 600,000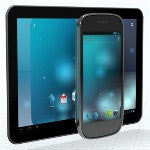 Despite the rumor about
5 Nexus devices Google is planning to unveil November 5
, made by different manufacturers, the persistent whispers about its own Nexus tablet continue unabated.
Now we learn that
Google's first branded tablet
, which is once again confirmed to be
made by Asus
, will be on sale in July, with an
initial batch of 600, 000 units made
. Google's order forecasts are for 2-2.5 million units by year-end, and last minute tweaks to design and cost structure are allegedly the reason its launch is delayed from June to July.
The 7-incher will be directly tackling the
Kindle Fire
, if its price point hovers around the $150-$250 mark, as rumored, but a potential
iPad Mini
with a 7.85" screen, and even the
existing Samsung Galaxy Tab 2 (7.0) for $250
are also going to crowd the affordable 7" market, so soon everybody will have one of these in the glove compartment, and in each room of the house, plus across the bathtub.
Google's I/O conference is June 27, so an announcement of the Nexus tablet there and subsequent July launch seem entirely plausible.