Results: we didn't choose the dongle life... and we hate it, poll says
46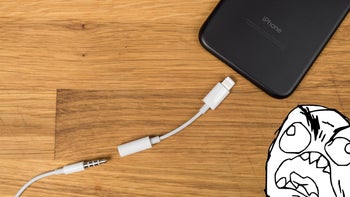 So, for the past 18 months or so, there has been a small revolution after small revolution in the smartphone world. First, we got to see the systematic oppression of the 3.5 mm headphone jack become a thing. Then, bezels got cut down drastically, and displays were stretched out to weird lengths. Glass backs have become the norm and the days when a single camera was enough seem to be behind us.
Not all of the current trends are bad, we just make it sound like that for dramatic effect. Some are great, and some might be OK on their own but be the cause for something else to pop up and annoy users. While current smartphones are the awesome devices of the future we always imagined we'd one day have, there are a few things about them that rub users the wrong way.
We thought we'd ask you — what's the current trend that absolutely drives you bananas? Turns out, it's not the wide-angle selfie cams that give us banana-shaped faces. Nope, it's the rapid omission of the headphone jack! Well, according to 52% of voters, at least.