Results: do you care about 360-degree cameras?
7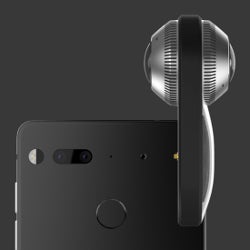 So, the other day, Andy Rubin's new company — Essential — finally revealed the
Essential Phone
. A contemporary flagship through and through, with top-of-the-line hardware, titanium and ceramic build, an all-screen front, and even a courageously missing headphone jack. What else could one ask for? (water resistance would be nice)
One of the Essential Phone's special features is its module port — you've got a magnetic connector on the back, which will accept Essential accessories with a click. And, at launch, we've got two of those — a
360-degree camera and a charging dock
.
About that camera — the company definitely makes a big deal out of it. It's portable, it doesn't need a battery as it is powered by the phone, it's supposed to be high-quality, and will only set you back an extra $50 if you order it with the Phone right now. Mr. Rubin and co. talk the camera up enthusiastically. And while we agree that it looks like an awesome little gadget, we are still unsure whether users care about 360-degree footage all that much.
We thought we'd ask you — our readers — how essential you think a 360-degree camera is. Here's how the votes tallied up!