Research confirms that most youngsters can't detach from their cellphones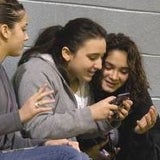 Yes, we admit it. Sometimes we find it hard to put our smartphones down and stop texting or to quit browsing the web for lolcats on our tablets. Well, it turns out that we are not alone. According to a recent study, a great percentage of adolescents worldwide may feel isolated or confused when separated from their electronic gadgets even for a relatively short period of time.
The said study examined how would youngsters react if they were not allowed to use a computer, nor a cellphone, or even watch TV for a single day. Participants in the research were volunteers from ten countries around the world, all of them between 17 and 23 years of age. They were only allowed to use a land-line phone or to read a book while logging their experiences in a diary.
The results were disturbing, to say the least. It turns out that
79%
of the subjects reported a range of negative symptoms after being deprived from their gadgets. Some of them even experienced withdrawal symptoms similar to the ones that a smoker or a drug addict feels when they are restricted from the bad habit. Feelings of distress, confusion, and isolation also dominated a number of volunteers.
Researchers try to explain the phenomenon with the fact that teens have grown up in a media-rich world where all kinds of information is easily available online with almost no restrictions upon it. Furthermore, adolescents are used to communicating with their peers in a virtual environment instead of engaging in a real conversation.
At least there is good news after the study. It has been confirmed that every participant who did actually start a face-to-face interaction with other volunteers agreed that it was a much more satisfying experience compared to an online chat. Why don't you take your kid's cellphone away for a couple of days and share the results with us in the comments?
source:
Daily Mail
via
Android Authority