Report says that Verizon users grab more data monthly than those on AT&T
This article contains unofficial information.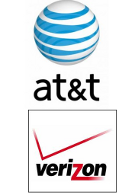 A study of 20,000 monthly cellphone bills comes to the conclusion that Verizon customers average more data usage per month than AT&T customers. While AT&T has more smartphone users than any other carrier in the U.S. thanks to the Apple iPhone, Motorola's Android flavored DROID and its other stablemates like the DROID X and the HTC Droid Incredible have helped Big Red compete against AT&T in this market. According to the study, Verizon's smartphone users average 421 MB per month vs. a reading of 338 MB for AT&T's users. BlackBerry devices were excluded from these computations because 'Berry users average under 50MB of data use per month. So what can we conclude from these numbers? Perhaps it simply shows that some iPhone purchasers bought their device just to say that they own an iPhone.
Apple iPhone 4 Specifications
|
Review
Motorola DROID Specifications
|
Review
HTC Droid Incredible Specifications
|
Review
Motorola DROID X Specifications
|
Review
source:
LATimes