Report says entry level Apple iPad mini will price at $329 in the U.S.
55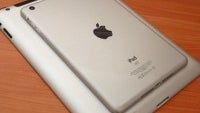 Earlier on Saturday, we told you about an analyst who is expecting
the entry level Apple iPad to be priced at $299
. Now, we have another report stating that there will be 12 variations of the smaller Apple tablet and that the price of the
Apple iPad mini
will start at $329
. Sources for
9to5Mac
say that the entry level model will have 16GB of storage and offer Wi-Fi connectivity only. Two versions of the Wi-Fi only model will have more storage (32GB and 64GB) and be priced at $429 and $529 respectively.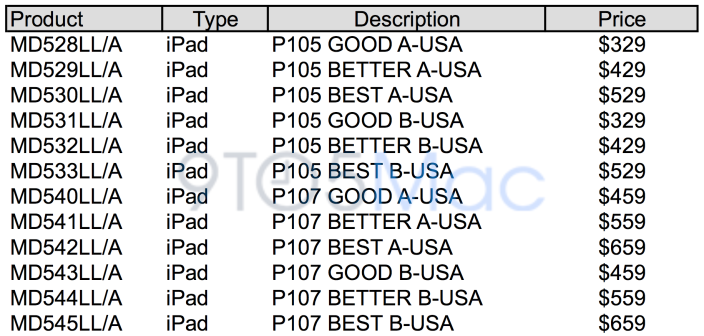 9to5Mac created this pricing chart based on its sources
The version of the Apple iPad mini that connects to a cellular network (GSM/LTE) is expected to have the same premium to the Wi-Fi only version, $130, as the
third generation of the Apple iPad
has. That would mean the Wi-Fi plus cellular price for the Apple iPad mini would be $459 (16GB), $559 (32GB) and $659 (64GB). Now, we are sure that some of you eagle-eyed math whiz types are saying that this adds up to only 6 variations and we opened this story by talking about 12 variations. The remaining variations are based on color. There will be a
white model and a black model
.
This report compares with
the pricing expected by Europe's largest electronics retailer, Media Mrkt
, which shows 16 different variations of the Apple iPad mini. The retailer's inventory system shows 8GB, 16GB, 32GB and 64GB models of the device in both Wi-Fi only and cellular versions available in black or white. That report had the 16GB Wi-Fi model going for $350 which comes pretty close to the $323 estimate that the source for
9to5Mac
is calling for.
We've mentioned before how the Apple iPad mini is expected to compete with the low priced 7 inch Android models like the
Amazon Kindle Fire HD
and the 8GB (soon to be 16GB)
Google Nexus 7
, both priced at $199. Can Apple really compete in this arena with a price starting $130 above the competition?
Apple's media event on October 23rd
will introduce the tablets and the battle will begin.
source:
9to5Mac
via
RedmondPie