Cowen's report reveals what T-Mobile was going to do with Sprint
8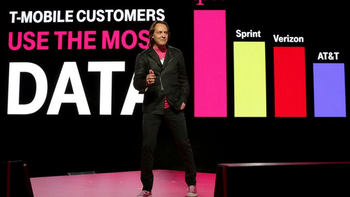 Even though T-Mobile and Sprint both agreed that there were benefits to merging the two major state-side carriers, in November of last year
the pair called off their merger talks
. As the BeeGees sang, "How could a love so right turn out to be so wrong?" As is typical with a possible transaction like this, egos got in the way. There was some speculation that Sprint CEO Marcelo Claure wasn't happy with
reports that T-Mobile president and CEO John Legere was going to run the combined companies
.
According to a report from brokerage firm Cowen, T-Mobile planned to shut down 30% of Sprint's cell sites once the deal closed. Additionally, the plan was for T-Mobile to employ Sprint's high-frequency 2.5GHz spectrum coast-to-coast. These airwaves would perfectly complement T-Mobile's low-frequency spectrum in the 600MHz and 700MHz bands. High- frequency spectrum doesn't travel that far, and does not easily penetrate buildings. Low-frequency spectrum travels farther and can more easily go through buildings. You might recall that
the Un-carrier spent $7.9 billion last year on the FCC's auction of 600MHz spectrum
. T-Mobile ended up winning 45% of the spectrum (31MHz) up for bids.



With Sprint and T-Mobile no longer in talks (and more telling, rumors of a merger are no longer disseminated), Sprint now plans on using its 2.5GHz spectrum to build out its own LTE network with $6 billion provided by corporate parent SoftBank. As for T-Mobile, CFO Braxton Carter
said earlier this month that the nation's third largest carrier will look for smaller acquisitions. The goal is to find companies where the purchased assets can be quickly plugged into T-Mobile's operations in order to strengthen the carrier's network.
source:
FierceWireless