Report from Millennial Media shows usage of Android devices doubled that of iOS devices in Q3
15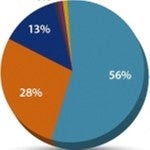 The Millennial mobile ad network keeps track of the number of ads-or impressions-that were viewed on each device and OS. While not a perfect way to measure popularity among operating systems and devices, it does provide a quick and dirty look at which devices and firmware are being used to read these ads. When looked at in this regard, the numbers do provide some sort of usage statistics.
Based on the quarter that ended last month,
Android
devices had twice the number of impressions as
iOS
devices. Now we can't go ahead and say that means Android users outnumber iOS users by 2:1 globally, but it does give us an idea of which platform is in the hands of most smartphone users that received Millennial's mobile ads during the three months ended in September.RIM was third with a 13% slice of the impression pie.Symbian came in with 1% while the combination of Windows Phone and Windows Mobile (there are still some older models using the latter) also accounted for 1%.
Thanks to a very strong jump in impressions for the
Apple iPad
(456% gain in impressions year-over-year), Apple was the manufacturer with the highest number of Q3 impressions, holding a 23.09% share.
Samsung
was second with 16.485 followed by HTC's 15.5% slice. RIM and Motorola rounded out the top 5 at 11.05% and 10.70% respectively. Other names of interest include LG (6th, 9.14%). Nokia (8th, 2.41%) and Sony (15th, .2%).
The
Apple iPhone
was at the top of the smartphone list with 12.55% of all impressions during the third quarter, followed by the
LG Optimus
series at 6.30%. Third was all models of the BlackBerry Curve at 4.70% with the Motorola DROID line right behind, accounting for 4.35% of impressions on the network. The HTC Desire came in fifth with a 4.01% share.
Looking at impression share from one mobile ad network can lead to some strange stats.Huawei had two models (Ascend and Ideos) in the top 20 and the BlackBerry Pearl was number 20. No, it is not a popularity contest which makes the numbers more interesting because it is a referendum on the actual usage of mobile devices.
source:
MillennialMedia
via
BGR