Report: Third-generation Motorola Moto G to launch next month?
11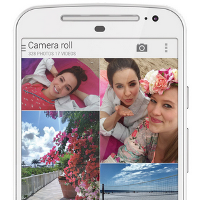 A report published on Monday suggests that we could see the third-generation Motorola Moto G launched as soon as next month. The report uses simple math to determine that Motorola has been waiting 10 months between new Moto G versions and that would lead to a July release for the next iteration of the device.
The third-generation Moto G does appear to be on the way. Last month, Indian online retailer
Flipkart accidentally put up a bare bones listing for the phone
before taking it down. The only information revealed by the listing was the less than earth-shattering revelation that the next Moto G will include 8GB of internal memory.
Lenovo CEO Yang Yuanging recently said in an interview that "
We have many new models in development with the Moto brands…so you may see in summer us launching some very exciting products, including phones and watches
." And we've seen quite a number of leaks recently regarding the next iteration of the Moto G,
Motorola Moto X
, Motorola Moto E and
a couple of new Verizon bound Motorola DROID models
. For fans of the manufacturer, this could be the summer of Motorola.
source:
DayHerald
via
Mobipicker