Report: Providers and smartphone manufacturers we can trust
12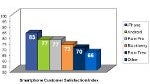 It's a common knowledge which vendors and carriers we can trust most, but it's even more reassuring when a sample is made that confirms these facts. And here is the big picture - people like what they see from Apple and Verizon, RIM has quite a few problems in the reliability and usability categories, while AT&T is the least trusted carrier when it comes to voice calls.
Let's start with the carriers. This survey indicates that you will face few problems when you take calls with Verizon and T-Mobile, while AT&T is rock bottom in that department. That's illustrated by John Moncure, owner of an iPhone 3G:
"Sometimes walking from one side of the house to the other - and I live right downtown in the county seat - I lose connectivity. I like the iPhone, it's a good machine. If it were available with all the providers, I would pick the provider that gave me the best service--and I don't think that's AT&T, not out here"
On the other hand, T-Mobile is the leader in the phone support table and this along with its call reliability bodes well for the fourth largest US carrier.
On the manufacturers' front, Apple customers are happy and Motorola is the most reliable brand. The same flattering words can't be said about RIM. The Canadian manufacturer is described as below-average in almost all reliability and usability tests, but it has another problem as well. Because it targets the business user, the younger generations tend to support Apple, HTC and Android-powered phones. RIM's share of the smartphone market is shrinking all the time and only time will reveal whether it will manage to fight back to the top of the smartphone business.
This report is consistent with
another survey
we have posted for you and it trashes the "
AT&T has 60% faster cellular speed compared to Verizon
" notion. Tell us what you guys think is the most reliable smartphone manufacturer and US carrier.
source:
Yahoo
Recommended Stories