Report: Brand and price more important than carrier to smartphone buyers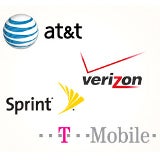 Which is the decisive factor for you when choosing a new smartphone? Is it the price, the specs, the carrier, or the brand? According to a new report by Google and digital intelligence firm Compete, the brand and the price are the most important factors when people in the US are buying smartphones. That isn't to say that carriers aren't important, but it looks like nowadays people are more willing to abandon their carrier if there's a hot device they want really bad offered by another one.
One of the more troubling observations found by the survey is that only 66% of shoppers in 2012 have considered two or more smartphone models before going for it. We say 'only', because that number has been 75% in 2011. What this means is that competition in the US isn't in tip-top shape, as the juggernauts Apple and Samsung are grabbing more and more of the market for themselves, leaving only miniature fractions for all the other brands. Will 2013 bring a change to the status quo? Will HTC, Motorola, LG, Nokia and the others find a way to win some customers back? Share your thoughts in the comments below!
via:
TechCrunch