Red discoloration of the Samsung Galaxy S8/S8+ displays upset buyers in Korea
50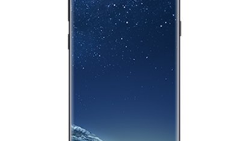 After last year's fiasco with the
Samsung Galaxy Note 7
, it was very important for Samsung to have no problems at all with the
Samsung Galaxy S8
and the
Samsung Galaxy S8+
. So the company took extra time, unveiling the phones a month later than usual to make sure that the flagship models would launch without any issues. But over the last few days, several Galaxy S8 and Galaxy S8+ owners in Korea started complaining about a reddish tint that was showing up on their devices.
Pictures of the Galaxy S8 and Galaxy S8+ popped up on social media sites as insecure device owners asked others if they thought that the screens on their phones were too red. Samsung replied to this news by saying, "It is not a quality problem and it can be adjusted with the phone itself. If the color still appears to be reddish, customers can change it at the service center." But this statement didn't mollify some Galaxy S8/S8+ owners who said that they were unable to adjust the color on their screens because they were already optimized.
One industry analyst put the blame for the reddish tint squarely on Samsung's rush to produce enough phones to meet strong demand. The analyst said that Samsung uses deep red technology to produce color balance for the phone. By rushing production of the Galaxy S8, some of the units might have been left with this reddish tint on the screen.
Some of the units appear to have a magenta discoloration which might be an interesting way for T-Mobile to promote the phone. But no matter how much CEO John Legere loves the color, we're sure he would rather have his customers receive the Galaxy S8 or Galaxy S8+ they ordered without any issues at all.
source:
KoreaHerald