Recent Nexus 4 buyers have 15 days to get a $100 refund
19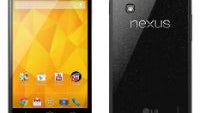 Yesterday, Google made some news by dropping the price of the already very inexpensive Nexus 4, but naturally that left open some questions about what would happen to those who had just purchased the Nexus 4 before the price drop happened. Google has clarified the policy, and it looks like some recent buyers will be able to get a $100 refund.
Google just dropped the price of the
Nexus 4 by $100
, and the plan is to carve out 15 days on either side of the price drop. This means that you had to have purchased a Nexus 4 no longer than 15 days before the price drop; and, you only have 15 days from the price drop to file for a refund.
So, if you purchased a Nexus 4 after August 12th, you have until September 10th to file for a refund. And,
you must manually submit for a refund
, Google will not automatically be giving you money back. If you bought a Nexus 4 recently, just head over to the source to submit your refund request.