Real HDMI app brings full HDMI output to Motorola DROID X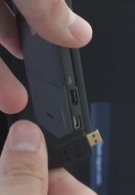 The
Motorola DROID X
for Verizon has a very desired feature in the presence of an HDMI-out port. However, if you have thought you would be streaming the movies stored on your memory card with something like SlingPlayer on your 50" HDTV, or output the video from your Netflix and YouTube clients, you've been sadly disappointed. The driver is limited to gallery-only mode, and another ROM would have to be flashed to remedy this, thus potentially voiding the warranty.
Now there is an app called Real HDMI, which costs $1.99 on Android Market, that claims to resolve the issue. It is allowing you to stream the said videos through, as well as show whatever your phone is displaying, on a larger screen.
User reviews are quite positive, and there is a Q&A what works and what doesn't in the app description, so if you need full HDMI on your DROID X, you can head over there, and give it a try. Bear in mind that it fully supports only the official ROM for now.
Motorola DROID X Specifications
|
Review
source:
AndroidPolice