Read It Later gets rebranded Pocket, and is now free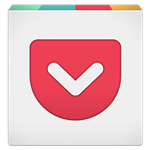 Sometimes things need to change names because the old name just doesn't make any sense any more. We saw this with the
Google Play Store
, which had grown too big for the Android Market name with the addition of music, movies and books, and now we're seeing it with Read It Later. The name used to make sense, because the app had been designed to save articles from the web for offline reading, but recently the news came out that far more than anything else, Read It Later was being used to save YouTube videos. With that in mind, the name no longer made sense, and the team decided to rebrand the app "Pocket".
In addition to the rebranding, the app has been updated with an all new UI designed to help organize the content you've saved in a better way. There are also new filters which automatically organize content for you. The layout of saved pages has been reorganized to make it easier to get the tools you need like sharing, changing text sizes, etc. The app has also gotten an all-around speed boost for faster syncing and downloading of content. And, maybe best of all, the app is now free. So, what used to be Read It Later Pro is now simply Pocket, and the free version has been dropped all together.
One annoying thing is that even with all of these updates, Pocket still has the limitation where you can't store login credentials for 3rd party sites on Android devices on Honeycomb or Ice Cream Sandwich, so you still won't be able to read your ESPN Insider content until that has been sorted out.