Razer Phone price drops to $549 at Microsoft and Amazon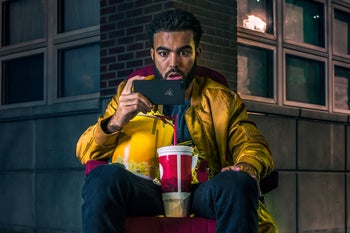 While
Razer is reportedly readying
the release of a brand new Android smartphone, the company's first handset - simply called
Razer Phone
- can now be purchased for only $549.99 ($150 off the regular price). This new price is currently available only at Microsoft and Amazon, not directly at Razer, which is still asking $699.99 for the device. Nevertheless, both Microsoft and Amazon are official resellers of the
Razer Phone
, so you're definitely getting US warranty with the handset.
The Razer Phone will be 1 year old in November, but it remains a high-end, powerful gaming phone. Its highlight features include a 5.7-inch Quad HD display with
high refresh rate
, 8 GB of RAM, a Snapdragon 835 CPU, stereo speakers, and a 4,000 mAh battery.
Microsoft says it'll be selling the Razer Phone for $150 off only until September 8 (online and in retail stores across the US). Amazon, however, seems to have permanently cut the price to $549.99.
If you're interested in buying Razer's first smartphone, you can find it at the source links below. Just keep in mind that the handset is compatible only with carriers like T-Mobile and AT&T, so it can't be used on Verizon, Sprint, or US Cellular.