RIM wants to help you convince your IT manager to buy new BlackBerry 7 OS phones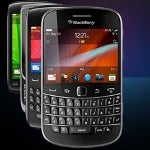 Let's say you work for a company that hands out BlackBerry smartphones to its employees. The devices run BlackBerry 6 OS and can't be updated to the latest BlackBerry 7 OS. You've talked to your IT manager, but he isn't impressed with your argument. What can you do? Where can you turn? How about going online to www.upgrademenow.com. This is a website put up by RIM to
help enterprise employees make a persuasive argument to their IT manager
.
try to convince him that a new BlackBerry 7 OS powered device would enhance productivity
at the office and in the field. For example, you can tell him that BlackBerry 7 OS has the fastest browser on a BlackBerry to date. Or how about telling him that apps available exclusively for the newer OS make you more productive and help you stay connected in the field. If he is a typical enterprise user that focuses on BlackBerry email, tell him that BlackBerry 7 OS has a universal inbox so that all messages can be easily found in one place. Those devices that support NFC offer BlackBerry Tag which helps users share contacts and photos. Speaking of photos, the new devices offer HD photos and video and integrate easily with the BlackBerry PlayBook tablet. If those arguments don't work, you can mention how secure BlackBerry 7 OS is.
If you are scared of your IT manager or just don't do well in face-to-face interaction, the
website has an email already written that you can use
. All you do is add your name at the bottom, plug in your IT manager's email address, click, and the message is on the way. We have to say, this is an interesting idea and very well could result in some enterprise business for RIM. The only question we have is, once you convince your IT manager to buy BlackBerry 7 OS devices, how will you
convince him to update to BlackBerry 10 OS phones
when the new OS launches later this year? After all, older devices will not be updated and that includes those with BlackBerry 7 OS.
"Dear IT manager,
I'm ready to upgrade to a BlackBerry® 7 smartphone, with features that are designed to help boost my productivity and help me manage my day more efficiently:
Apps that will help make me more productive and connected, like

BlackBerry

Mobile Conferencing, BlackBerry® Traffic™ and BlackBerry® Travel™.
A unified inbox, so I can stay on top of all my emails, texts and phone calls.

BlackBerry

Tag on NFC devices — so I can share contacts and files with my colleagues with a simple tap.
HD video recording and playback, so I can capture and share high res video content instantly.
Tight integration with the business applications on the BlackBerry® PlayBook™ tablet, such as Docs to Go (by the way—I'd love a

BlackBerry

PlayBook too!).
The proven and reliable

BlackBerry

platform, designed with security at the core.
Along with its great features, BlackBerry devices come with world-class technical support, and centralized and simplified solution management.
And it looks like there's a great promotion going on right now: For a limited time, the BlackBerry Upgrade Program offers up to $100 for every new BlackBerry 7 purchased. Contact your RIM Account Manager for details.
Will you upgrade me to a BlackBerry 7 smartphone? Check them out at http://us.blackberry.com/smartphones/.
Thank you for your time,

<"-pre-written letter supplied by RIM to send to your IT manager
source:
RIM
via
BerryReview