RIM to continue supporting BlackBerry OS 7 as BlackBerry 10 rolls out
18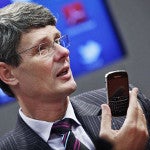 wrong as well
. During Thursday night's conference call
following the release of fiscal Q3 earnings
, RIM CEO Thorsten Heins made it clear that RIM will continue to support BlackBerry OS 7.
Heins says that RIM still has a "
significant R&D team
" working on the software, and the continued success of the platform in the Asia Pacific market gives the Canadian manufacturer a reason to continue supporting the OS build. Heins also hinted for the first time that the legacy models might be cut in price and sold to
cover a lower end price point
. He even hinted that BB10 hardware could be sold with BB OS 7 inside, "
...because for those messaging-oriented markets, it's an exciting platform and its a really perfect platform
."
"So just to be very clear, we will not just kind of stop BB7 from being supported. We have a significant R&D team working and continuing to work on BB7. And you just saw us innovating on BB7 as well when we announced the BBM voice capability. So we will maintain BB7. There is a strong success with BB7 devices in the Asia Pac markets. And as you can see on the devices that we're launching with BB10, you can probably get an idea of in which price points they fit."

"So no, we will support those on-boarding, entry-level smartphone markets. We will continue to support them with BlackBerry 7, and you might expect us to even build one of the other new products based on BlackBerry 7. Because for those messaging-oriented markets, it's an exciting platform and its a really perfect platform."-Thorsten Heins, CEO, RIM
source:
Crackberry