RIM says it did not give the Indian government access to BES corporate email
3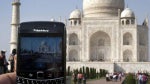 "The fact is that BlackBerry enterprise communications in India remain secure and encrypted. No change has been made or ever can be made in India or anywhere."-David Patterson, RIM's Head of government relations
The Economic Times of India is reporting that it has heard from officials in the country's telecom department that
RIM has given the Indian government access to BES corporate email
. This has been denied by RIM. But the problem with the story is that even if RIM wanted to, it cannot read the email that comes through the server because it is secure and encrypted. This is not the first time that RIM has had to issue a denial over the same story.
India is one of the few areas in the world where
BlackBerry is still expanding its sale
s. RIM plans on aggressively expanding in the region despite this continuous battle with the government over encrypted emails. The Canadian based manufacturer has repeatedly told the Indian government that it does not have the encryption keys which remain in the hands of its corporate customers. Last January,
RIM gave the Indian government access to its BlackBerry Messenger service
and other consumer functions as the Indian government feared for its safety, worrying that encrypted messages could help its enemies plan an attack. At the time, RIM vowed that it would not allow monitoring of corporate email. David Patterson, head of RIM's government relations, said he is sure that the Indian government realizes how important encryption is to attracting foreign business and that the country wouldn't make requests that could damage foreign investment in the country.
The story, posted on the Economic Times of India website, cites telecom department officials and certain documents that have been reviewed, in saying that RIM had provided a solution to the Indian government to
allow them to monitor business email
.
"
RIM is providing an appropriate lawful access solution that enables India's telecom operators to be legally compliant with respect to their BlackBerry consumer traffic, to the same degree as other smartphone providers in India, but this does not extend to secure BlackBerry enterprise communications."-RIM statement
source:
Reuters
Recommended Stories