RIM responds to BlackBerry PlayBook battery life allegations
5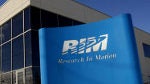 BlackBerry maker Research in Motion obviously got annoyed by the negative publicity that was pouring over its upcoming PlayBook tablet
yesterday
. A reputable analyst said that developers are experiences two to four hours of battery life on the device, a far cry from the six or even ten (iPad) of its direct rivals.
Today RIM stepped up and said that this is due to the fact that the units are still beta builds and power management has not even been implemented yet. Here's the official saying:
"
Any testing or observation of battery life to date by anyone outside of RIM would have been performed using pre-beta units that were built without power management implemented. RIM is on track with its schedule to optimize the BlackBerry PlayBook's battery life and looks forward to providing customers with a professional grade tablet that offers superior performance with comparable battery life.
"
The statement certainly makes sense, although it might just be a coverup, while the BlackBerry PlayBook maker is looking for solutions. RIM doesn't clarify what it means by "
comparable battery life",
hopefully at least six hours
.

via
BGR